Brown Bag Lunch
Urban Futures is organizing Brown Bag Lunch seminars on a monthly basis, where young scholars affiliated with the research platform's activities present their work in progress. These in person seminars stimulate scholary exchange of ideas through its more informal and collegial format over lunch time. Bring your own food and discuss with us!
Ana Cukovic
Institutional efforts at migrant emplacement: role of philanthropy
28.06.2023, 1:15-2:45pm
Ana Cukovic is Resaerch Affiliate at the Urban Futures platform. She is a PhD candidate in Anthropology at the University of Vienna, Austria.
Drawing on ethnographic fieldwork in Detroit, this talk analyzes the conditions by which local efforts at migrant inclusion take place. Building on evidence from interviews, document reviews, and discourse analysis, it investigates how migration comes to be viewed as part of 'urban revitalization' strategy within the larger framework led by philanthropy and growth elites. The talk ultimately asks: what is the role of private philanthropic organizations in shaping urban governance?
C0628a - NIG, Universitätsstraße 7, 1010 Vienna (6th floor)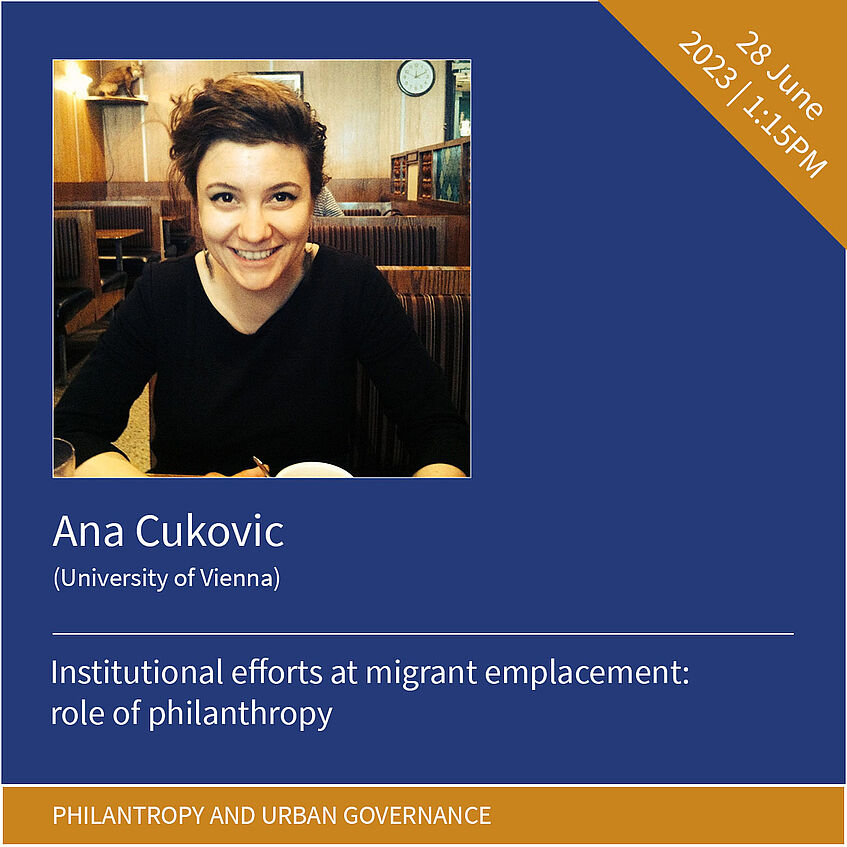 BBL: Wednesday, June 28
Kick Off BBL session: May 24
Eline de Jong
The logic of deservingness in social enterprises
24.05.2023, 12:00-1:30pm
Eline de Jong is Incoming Scholar at the Urban Futures platform. She is a PhD candidate in Sociology at the University of Antwerp, Belgium.
She will share some work-in-progress reflections based on her doctoral research on solidarity and deservingness in social enterprises, for which she conducts ethnographic fieldwork and interviews with third sector organizations working with and for people with a migration background.
C0628a - NIG, Universitätsstraße 7, 1010 Vienna (6th floor)